With the increasingly modern world, people are looking for electric bikes, as air pollution can be prevented to a great extent by e-bikes. Are you also looking for an electronic bike, if yes then this article is only for you?
Today, I have brought you Kridn electric bike price and review. This e-bike has been launched by One Electric Motorcycle Company and has also claimed that this model will be the fastest electric bike in the Indian market in the coming times. So let us know in detail about the price, specifications, images and mileage of this bike in this article.
About One electric kridn bike in India
One Electric Motorcycle Company has launched the first e-bike (Kridn) in October 2020 with a target that this bike will be the fastest electric bike from India. Gaurav Uppal, Chief worker, One Electric Company, has said that this model is designed for heavy roads and heavy loading, and at the same time it can work well in high temperatures.
This e-bike is the maid in India, which also challenges the Chinese dominated market. The name "kridn" of this bike is derived from Sanskrit, which means 'to play'. One Electric says that it has been given a sturdy structure by metal. The starting price of this bike in India is 1.29 lakh rupees, which is absolutely reasonable.
Read Also: Evolet Bikes Price in India | Mileage & Review
Kridn electric bike overview & review
One Electric Motorcycle Company has given it a retro sporty look and a strong body. The design of the bike is very basic, though there are no fancy elements in it. In this, you get round halogen headlamps with translucent round turn indicator. And the battery pack of the bike is found under the fuel tank, and round tail lamps are available at the rear.
The bike also gets an amazing flat seat, which is designed according to the logo. In this, you get a 3 kWh lithium-ion battery and a 5.5 kW electric motor. This motor produces more than 165 Nm of peak torque in the bike. The bike has two riding modes, Eco and Normal mode. The e-bike offers a range of 110 km on a single charge in Eco mode and 80 km on a single charge in the normal range. Its kridn offers a top speed of 95 km/h.
Talking about the features of the kridn, here you get comfortable seats, 17 inch front and 16-inch rear wheel. It is presented in two colours, blue and black. Apart from this, the bike gets a digital instrument console, halogen headlamps and 5.5 kW hub motor. With this motor, the bike provides a range of 110 km/h. Combined braking system is seen here. Overall, it is a great electric bike in India.
| | |
| --- | --- |
| Bike range | 110+ km per charge |
| Motor power (Engine) | 5.5 kW |
| It's Maximum torque | 160+ Nm |
| Front and Rear Brake type | Disc & Disc type |
| Bike Body type | Electronic bike |
| Fuel type | Electricity |
| Colours | Black and Blue |
| Bike variant | One electric Kridn 2021 |
| Top speed | 95 km/h |
Kridn Electric bike Price and Launch date
As I have told you that this bike is made in India, which means it is an indigenous electronic bike. One Electric Motorcycle has launched it in October 2020 and its deliveries have also started.
One Electric has fixed the price of the KRIDN e-bike at Rs. 1.26 lakhs. Note- This price has been obtained from Delhi ex-showroom.
One electric bike Kridn price: 1.29 lakh rupees
Kridn Electric bike specifications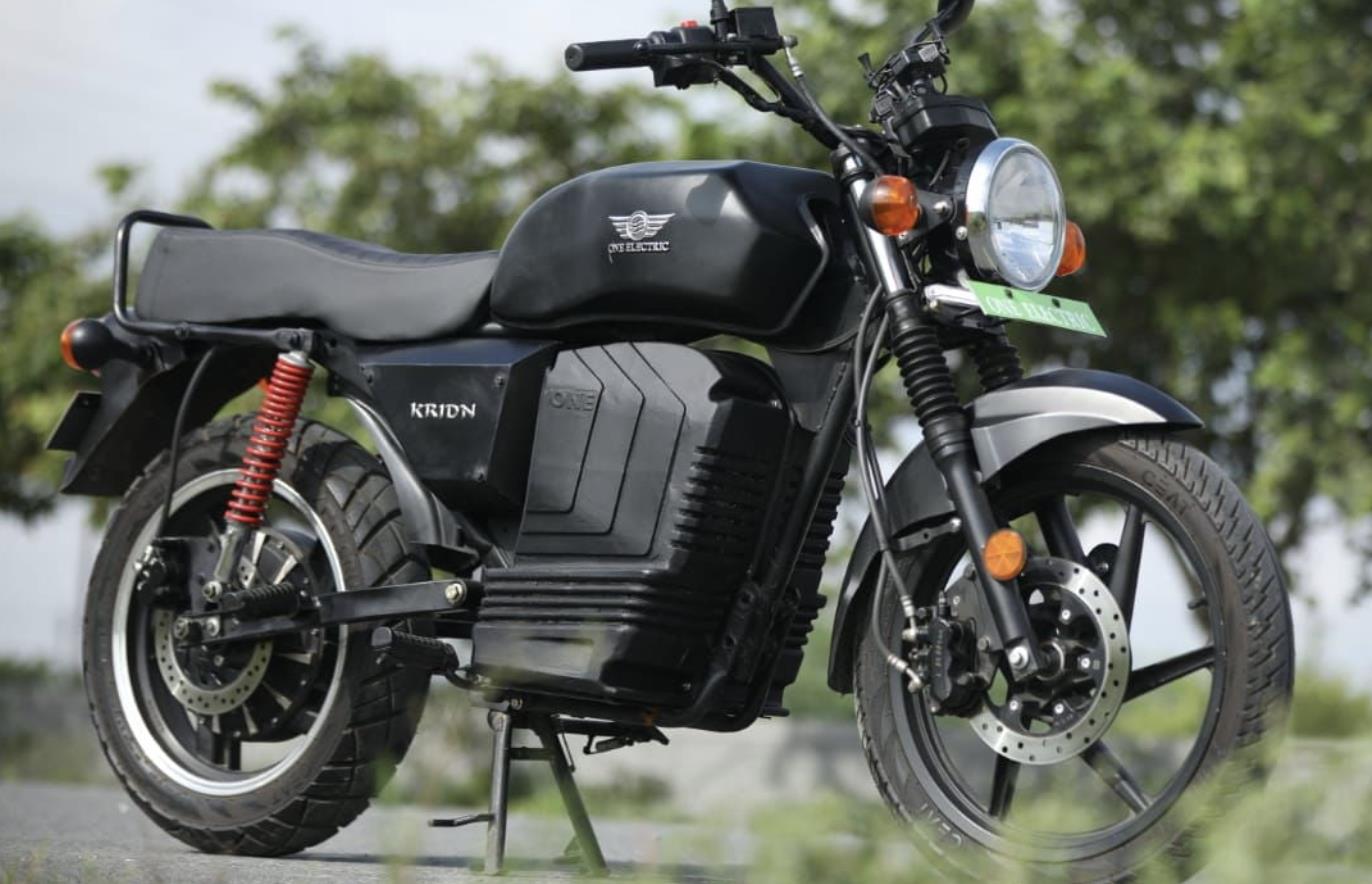 It's Engine and transmission
| | |
| --- | --- |
| Max torque and motor power | 160+ Nm and 5.5 kW power |
| Range of Eco mode and Normal mode | 110+ km/charge & 80 km/charge |
| Starting system | By push button |
Its tyres and brakes
| | |
| --- | --- |
| Tyre type and size | Tubeless tyre & size Front: 80/100-17 Rear: 120/80-16 |
| Wheel type and size | Alloy type & size Front: 431.8 mm Rear: 406.4 mm |
| Front and Rear brake type | Disc type |
| Front and Rear brake diameters | Front: 240 mm and Rear: 220 mm |
Its Chassis and suspension info
| | |
| --- | --- |
| Chassis or body type | Electric bikes |
| Front suspension | Telescopic hydraulic |
| Rear suspension | Hydraulic |
Its Dimensions info
| | |
| --- | --- |
| Headlight type | Halogen |
| Tail light type | Bulb |
| Battery type and capacity | Lithium ion and 3 kWh |
| DRLs | Yes, present |
Its Features and safety info
| | |
| --- | --- |
| Bike brakes | Combined brake system |
| Speedometer, Odometer and Console | Digital type |
| Additional features | Smart phone connect option (Optional) |
| Display | Yes, present |
Recently asked questions of electric bike
What is the highest speed an electric bike can reach?
Determining the top speed of any bike depends on its battery capacity, but if you take your bike to the highest speed, your motor will stop supporting.
Meaning, you can see the highest speed based on the battery capacity of the bike.
How fast can a 1000W e-bike run?
The bike of this capacity gives a top speed of about 35 mph.
How fast can a 250W e-bike go?
In this capacity, the e-bike can deliver a top speed of around 15 mph.
What are the disadvantages of electronic bike?
It has the following disadvantages:
Battery life is not long.
Charging takes a long time.
The riding range of the bike is less.
The price is also high.
Maintenance and repair of such bikes is expensive.
Their resale value is very low.
Last words:
Here you have been given complete information about kridn e-bike, and hope this article will be of complete help.